medical
design & engineering
see our
medical portfolio
on this page
According to wikipedia: A medical device is any device intended for medical purposes. Significant potential for hazards is inherent when using a device for medical purposes. Thus, medical devices must be proved safe and effective with reasonable assurance before regulating governments allow the device's marketing in their country. As a general rule, as the associated risk of the device increases, the amount of testing required to establish safety and efficacy also increases. Further, as associated risk increases, the potential benefit to the patient must also increase.
Discovery of what would be considered a medical device by modern standards dates as far back as c. 7000 BC in Baluchistan, where Neolithic dentists used flint-tipped drills and bowstrings. The study of archeology and Roman medical literature also indicates that many types of medical devices were in widespread use during ancient Rome. In the United States, it wasn't until the Federal Food, Drug, and Cosmetic Act (FD&C Act) in 1938 that medical devices were regulated. Later in 1976, the Medical Device Amendments to the FD&C Act established medical device regulation and oversight as we know it today in the United States. Medical device regulation in Europe as we know it today came into effect in 1993 by what is collectively known as the Medical Device Directive (MDD). On May 26, 2017, the Medical Device Regulation (MDR) replaced the MDD.
Medical devices vary in both their intended use and indications for use. Examples range from simple, low-risk instruments such as tongue depressors, medical thermometers, disposable gloves, and bedpans to complex, high-risk devices that are implanted and sustain life. One example of high-risk devices is those with embedded software such as pacemakers, which assist in conducting medical testing, implants, and prostheses. The design of medical devices constitutes a significant segment of biomedical engineering.
design & development
safira
One of our projects in the medical equipment category is Safira, which was completed in 2010. According to the needs of users in hospitals and medical standards, our team, along with the programming and electronics team of the manufacturer, began to design, develop and manufacture the first vertical medical monitor in Iran. The electronic and programming team provided the electronic components, and at the same time as our consultation, we replaced the internal components. Then, after designing and approving the digital design, we came to the final model, which includes Class A and Class B surfaces. After the necessary studies and achieving the desired results and financial justification for starting the project, the construction of plastic molds began. Fortunately, this product has been produced without any problems and distributed in the target market. This product has also won many honors in the field of medical equipment.
According to wikipedia: In medicine, monitoring is observing a disease, condition, or one or several medical parameters over time. It can be performed by continuously measuring specific parameters using a medical monitor (for example, by continuously measuring vital signs by a bedside monitor) and/or by repeatedly performing medical tests (such as blood glucose monitoring with a glucose meter in people with diabetes mellitus). Transmitting data from a monitor to a distant monitoring station is telemetry or biotelemetry.
patient monitoring
design & development
In 2017, following the success of Safira, our client ordered to design and build an up-to-date and complete patient monitoring system. Some features, such as 360-degree rotation of the monitor, the design of a portable plug-in suitable for transport in certain critical situations, and the design following existing technology, became our new and developing design goals.
On the other hand, the programming and electronics teams must provide new hardware because of these updates. This project reached the prototype stage, and due to economic incompatibility in the country's industry was stopped.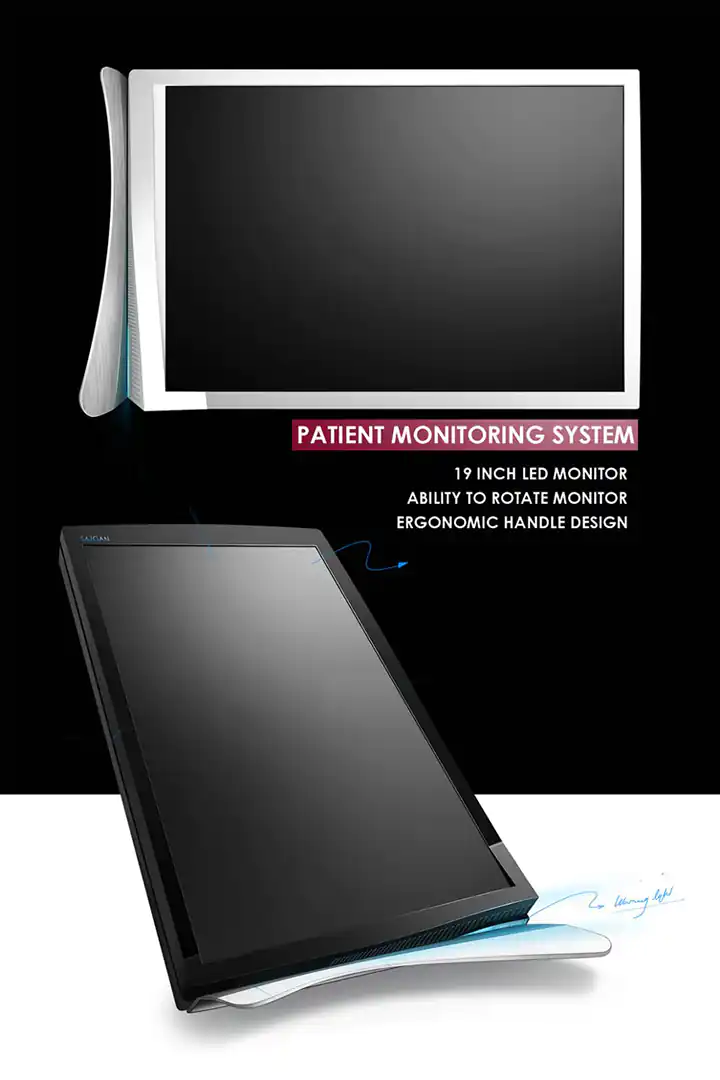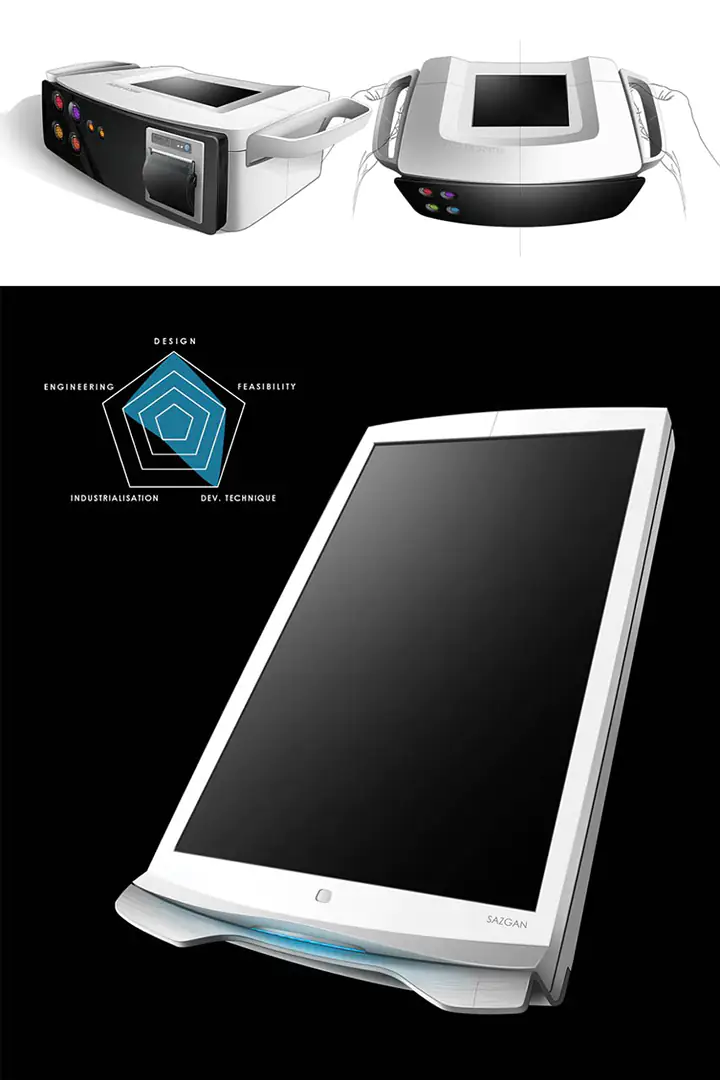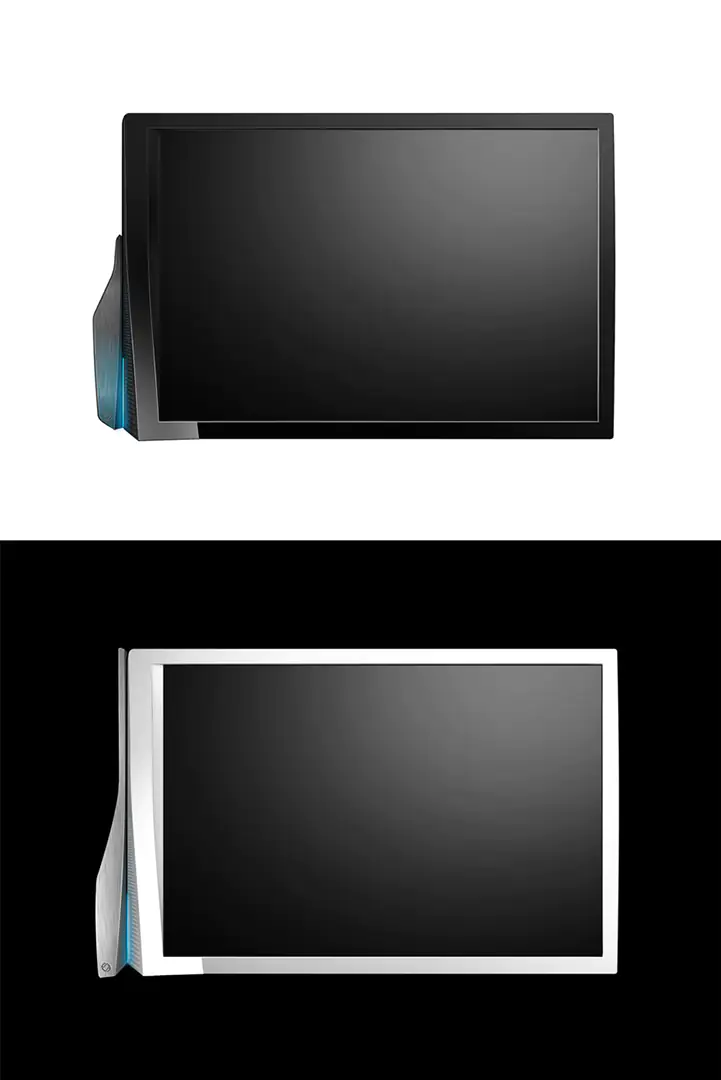 In designing compatible with the comfort required in hospitals and medical settings, we paid attention to a modern and relaxing design. In addition, we reviewed and applied ergonomics tips to meet hospital standards. We have improved product accessibility for easy access by staff. On the other hand, we have developed our mechanism design with 360-degree rotating parts according to the system's coding and adaptation to different programs of vital-physiological signs.
Because some diagrams are complete in the vertical position, and other charts are in full view in the horizontal position. Our team also studied light engineering to create standard radiation for staff, faster decision-making, and glare. We were also designing a mobile and complementary unit for various emergencies as necessary.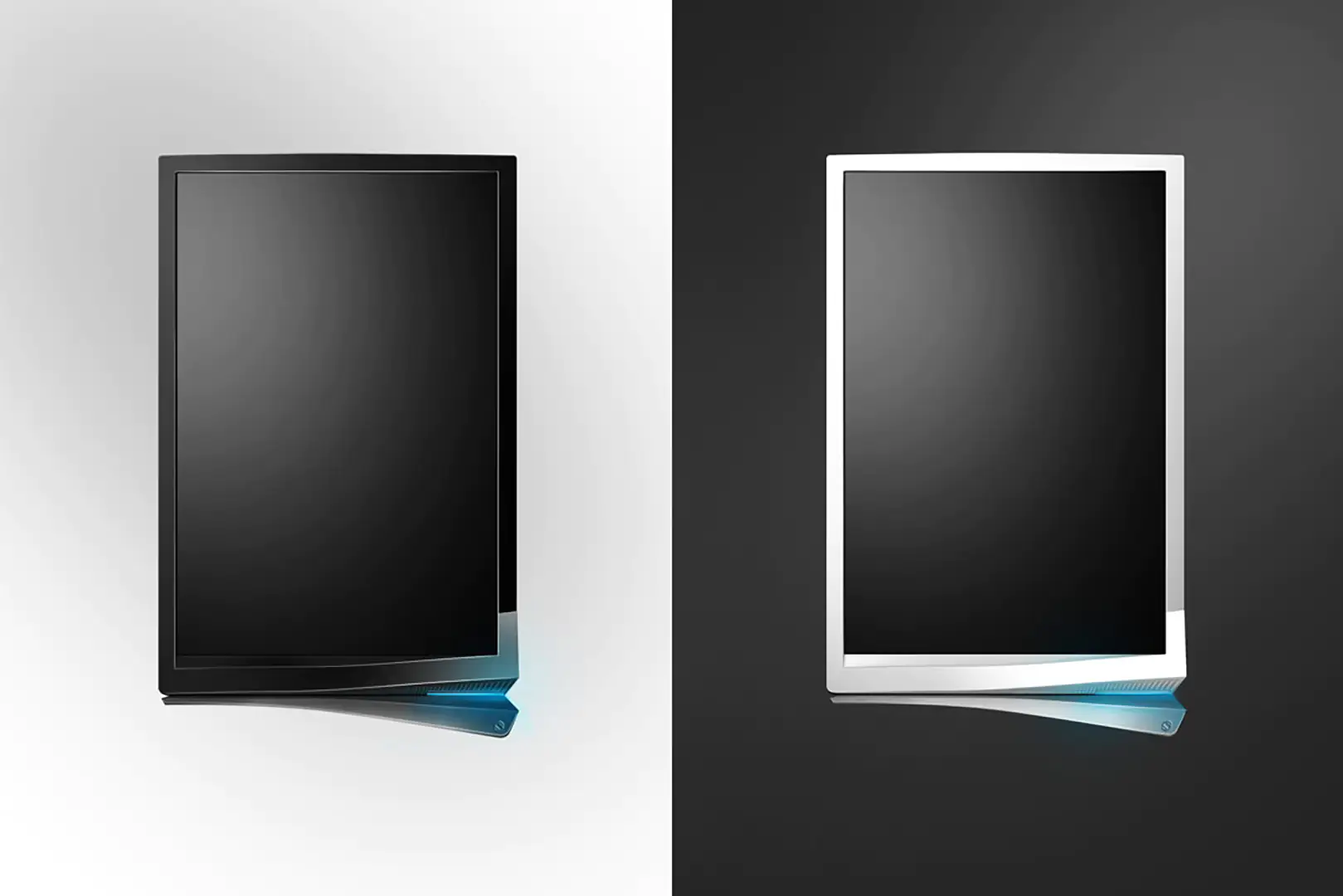 portable toilet chair
design & development
One of the projects our team decided to develop was a portable toilet seat for patients with physical disabilities. In addition to simplicity, this product is beneficial in particular situations in places that do not have enough facilities. According to the research and studies on the products available in the market, we obtained necessary justifications for new designs and better patient services. Some improvements made to this product compared to other products: more comfort in the seat, back, and ergonomic parts of the arm, the installation of a piece to prevent the spread of contamination when urinating, changing the dimensions of the components of the folding mechanism for Optimizing the seat mechanism and therefore less space when closing the seat.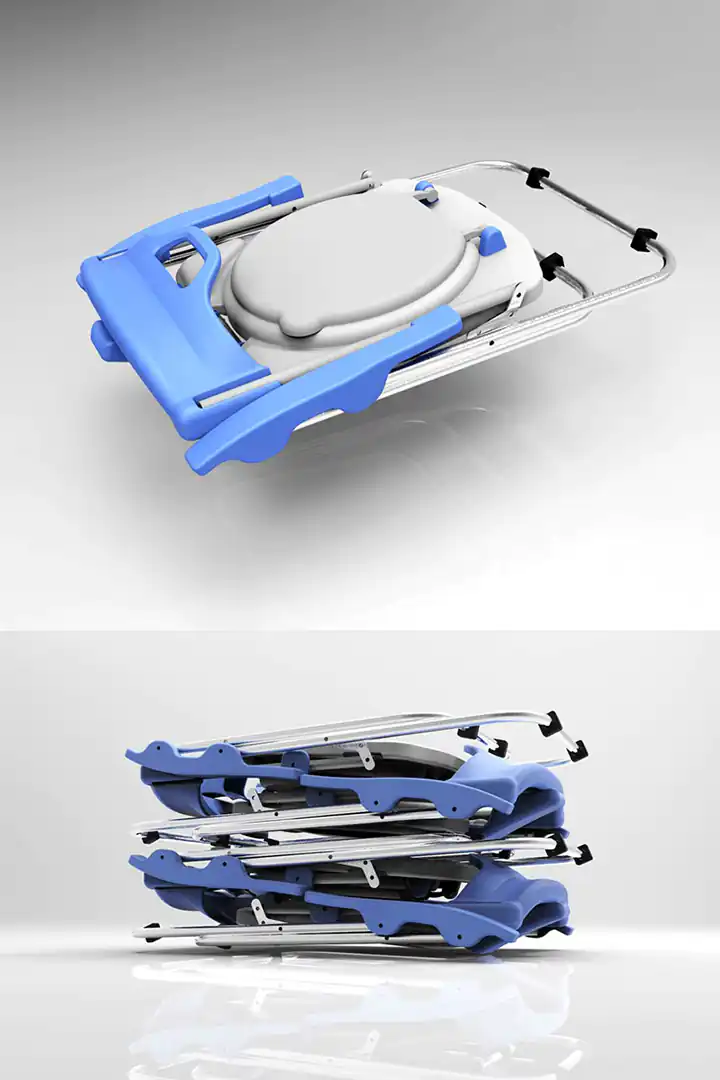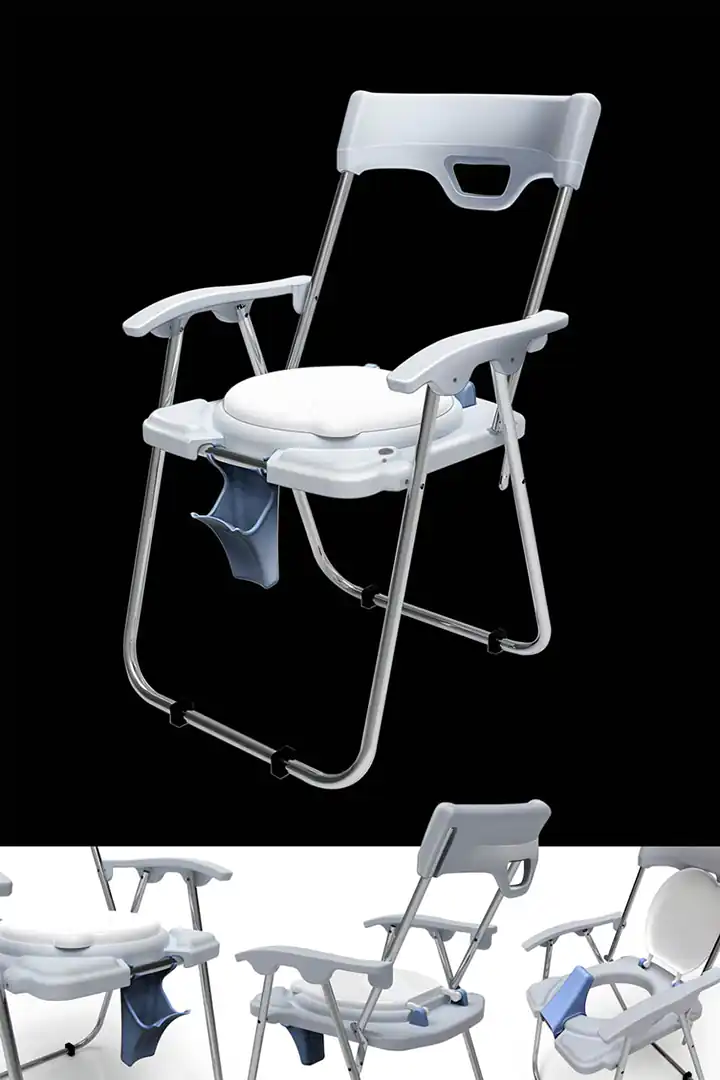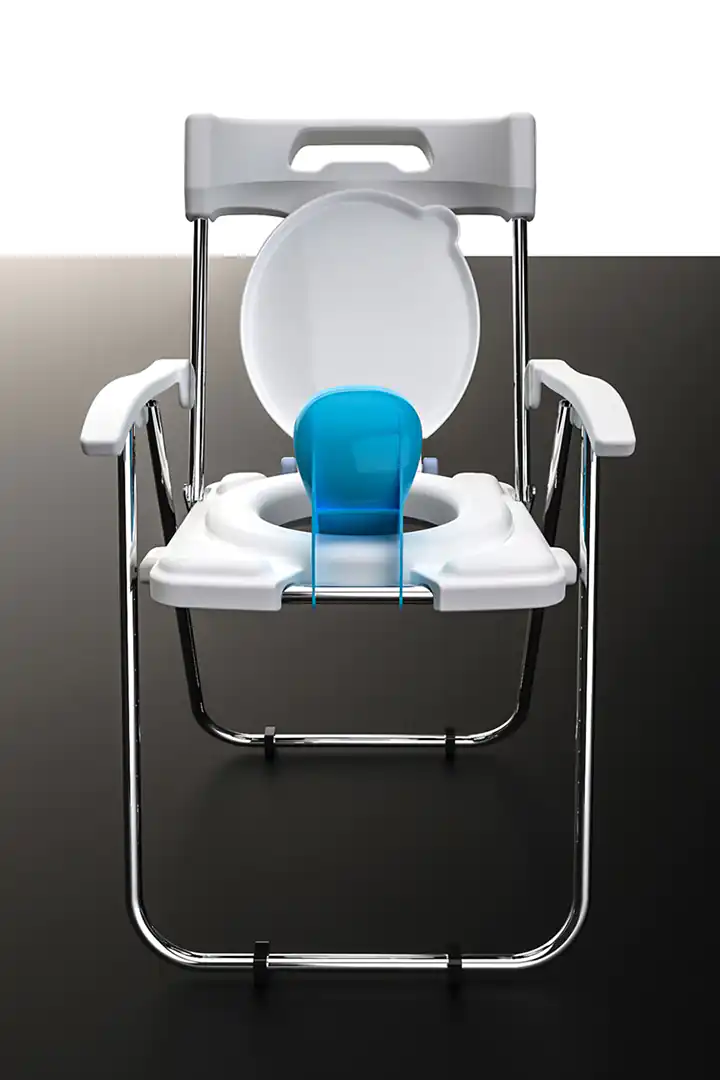 According to wikipedia , A portable or mobile toilet is any toilet that can be moved around, some by one person, some by mechanical equipment such as a truck and crane.
Most types do not require pre-existing services or infrastructure, such as sewerage, but are entirely self-contained. The portable toilet is used in various situations, for example, in urban slums of developing countries, at festivals, for camping, on boats, on construction sites, film locations, and at large outdoor gatherings where there are no other facilities. Most portable toilets are unisex single units with privacy ensured by a simple lock on the door. Some portable toilets are small molded plastic or fiberglass mobile rooms with a lockable door and a receptacle to catch the human excreta in a container.
A portable toilet is not connected to a hole in the ground (like a pit latrine), a septic tank, or plumbed into a municipal system leading to a sewage treatment plant. The chemical toilet is probably the most well-known type of portable toilet. Still, other varieties also exist, such as urine-diversion dehydration toilets, composting toilets, container-based toilets, bucket toilets, freezing toilets, and incineration toilets. A bucket toilet is an elementary type of portable toilet.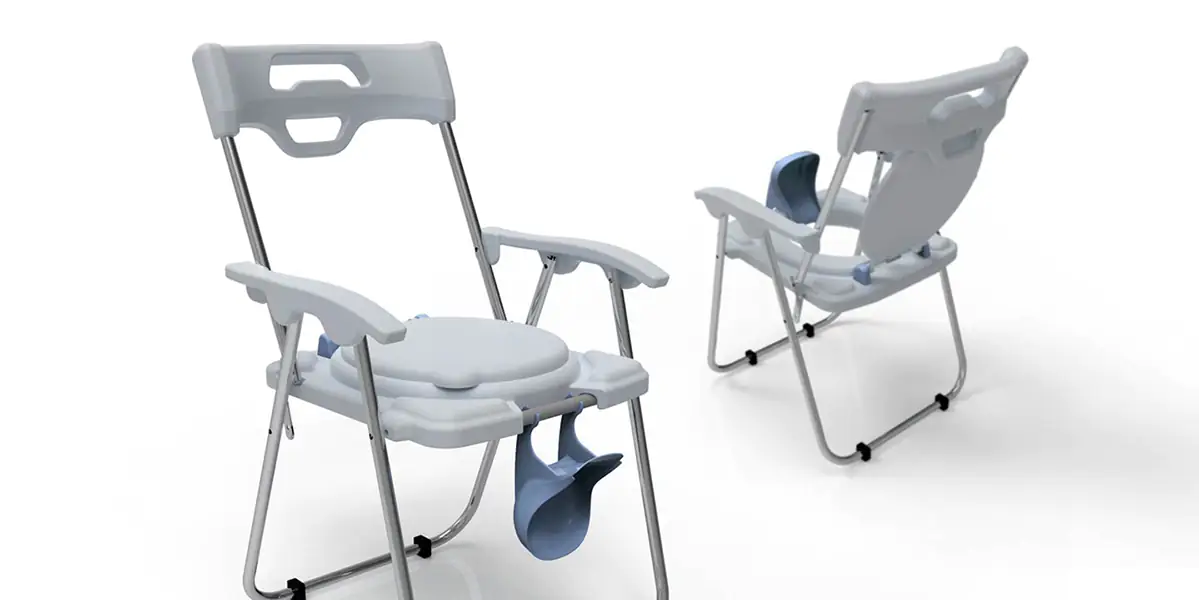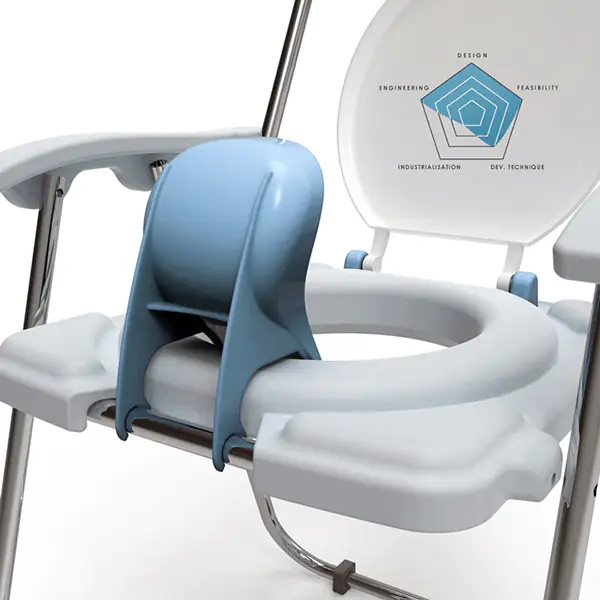 We always use DMU methods mechanism to simulate the product. As a result, we review our design and avoid potential problems and setbacks. This method is very effective and practical for optimal use of warehouse spaces and optimization of product transfer. It is noteworthy that the distributor or customer pays a lot of attention to the size of your products, the arrangement with each other, and the occupied storage space.
bedside trolley
design & development

Our other project in the field of hospital equipment is a trolley next to the patient's bed. In this project, we designed a new cabinet based on the availability of extruded aluminum columns from the previous product and pre-purchased hydraulic jacks. This project has two stages; The first phase was the design of a simple cabinet, and the second phase was the design of a simple cabinet equipped with a dining table by changing the chassis and the plastic bottom. It is noteworthy that the bedside cabinet is a drawer designed for placed next to the bed or other place in the hospital room. Modern trolleys usually have one or sometimes more drawers and or shelves and typically have a small door and a mechanized dining table. They are often used to store items that may be useful during the night, such as lamps, desks, alarm clocks, study cases, cell phones, glasses, clothes, shoes, drinks, medicine, etc.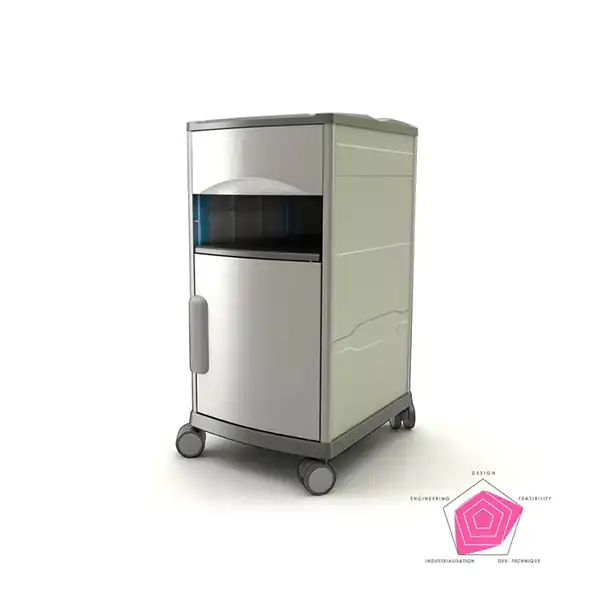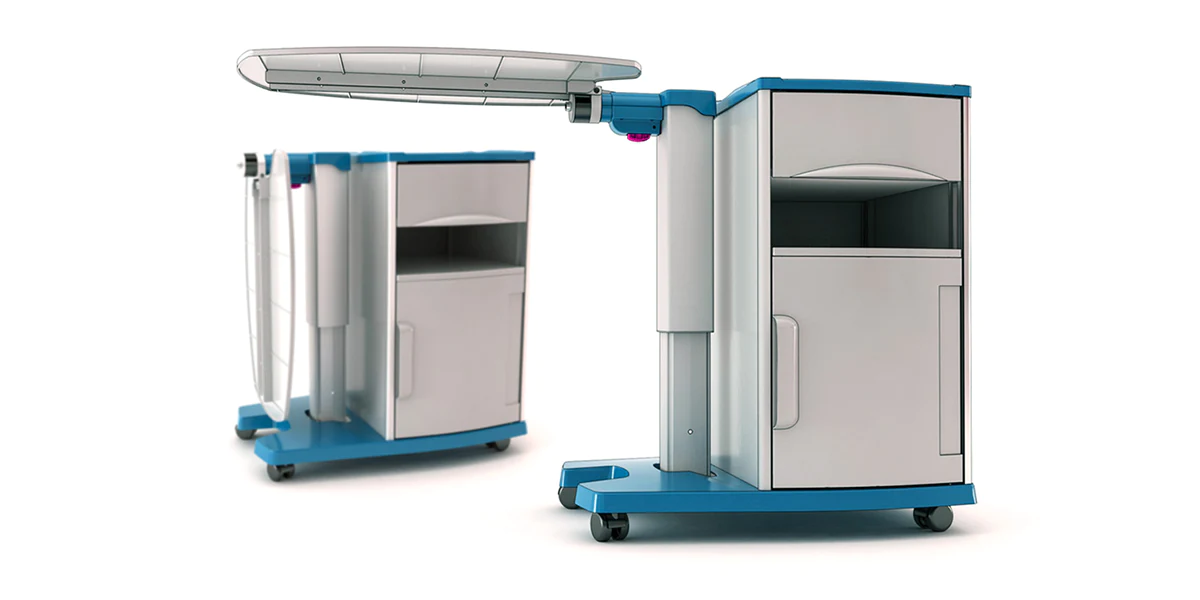 NOTE : Hospitals usually have internal codes that are used for specific situations. When someone outside the emergency department or intensive care unit suffers a cardiac arrest or similar potentially fatal condition (in cases where such conditions frequently occur before and do not require special notification), the emergency trolley is a vital product.
emergency trolley
design & development
One of our team's most challenging and successful projects was designing and engineering an emergency trolley. In this project, we covered different aspects of this product. One of the main features was upgrading the product to several different modes. With more or fewer drawers and connecting other devices around, this trolley can offer various services in different situations. The sealed access gate at the top of the trolley is crucial for storing vital medicines. To this end, we have designed a mechanism for personnel who can quickly access the leading drugs. So that by pressing a button, the seal can be opened quickly, and the transparent part is immediately transferred to the side of the trolley body by springs. On the other hand, the central locking system locks and seals all drawers with a suitable mechanism. One of the main challenges of this project was to integrate metal parts with plastic parts (pneumatic molding) and plastic parts (injection molding) and consider the relationship between different production calculations.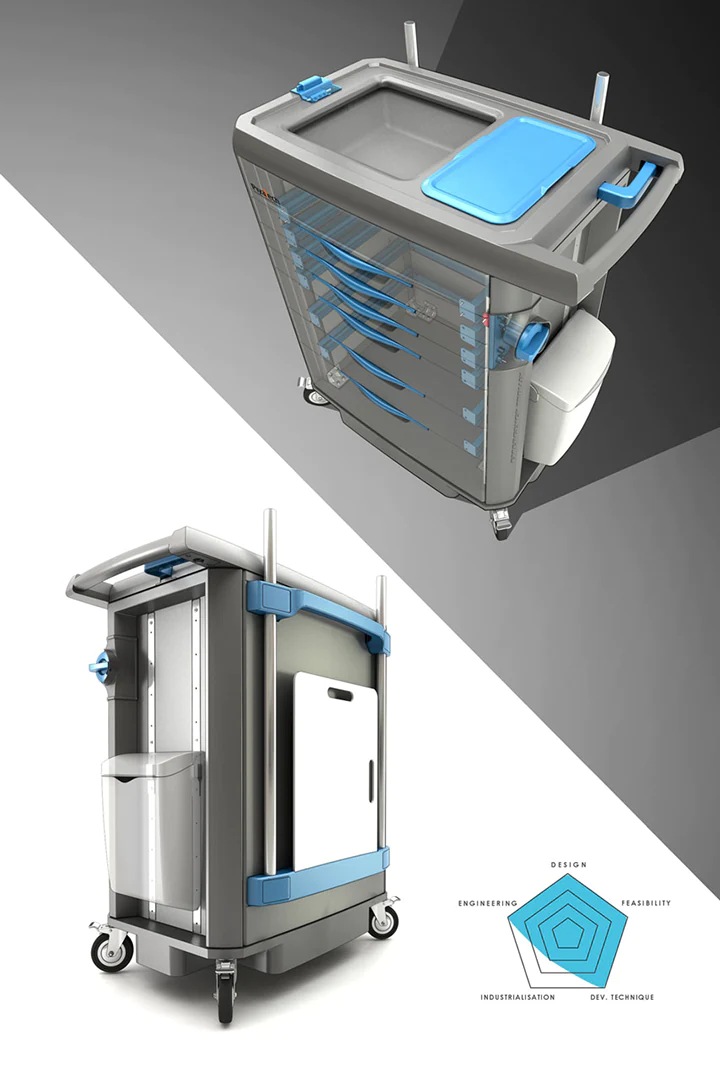 According to wikipedia : A crash cart or code cart or emergency trolley (crash trolley in U.K. medical jargon) or "MAX cart" is a set of trays/drawers/shelves on wheels used in hospitals for transportation and dispensing of emergency medication/equipment at the site of medical/surgical emergency for life support protocols (ACLS/ALS) to save someone's life potentially. The cart carries instruments for cardiopulmonary resuscitation and other medical supplies while also functioning as a support litter for the patient.
The crash cart was initially designed and patented by ECRI Institute founder Joel J. Nobel, M.D., while a surgical resident at Philadelphia's Pennsylvania Hospital in 1965. MAX helped enhance the hospital's efficiency in emergencies by enabling doctors and nurses to save time, thereby increasing the chances of saving a life.
pediatric bed
design & development
The hospital bed is one of the essential medical products in direct contact with patients. The first step to patient comfort in the hospital is to provide an ergonomic, comfortable and efficient bed. In addition to having the necessary standards, a good bed design can create more comfort for hospital staff. Together with the employer of this project, these factors led us to decide to design new beds. One of these beds is the children's hospital bed, which is very important for our team.
In our design, we have tried to convey the feeling of a castle to the child so that they can feel safe in the face of the hospital's scary environment and create a sense of freedom by creating large windows. The mechanism of the bedsides is designed so that by pulling a unique handle, they are completely moved to the bottom of the mattress.
On the other hand, the flatheads are separated by pulling the marked handles. According to the brief descriptions mentioned above, this product uses production methods such as pneumatic molding, injection molding, etc. We are very proud that this product has become a haven for children in hospitals.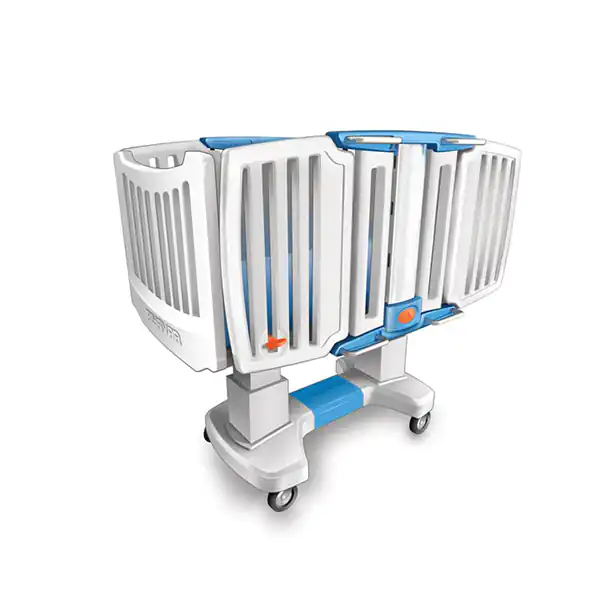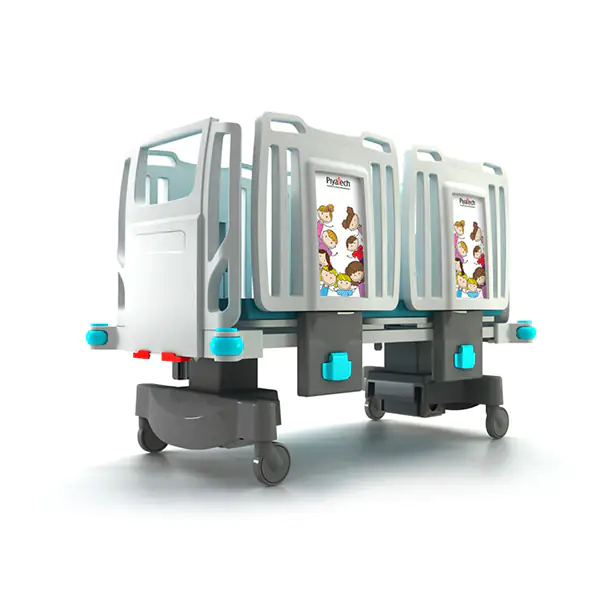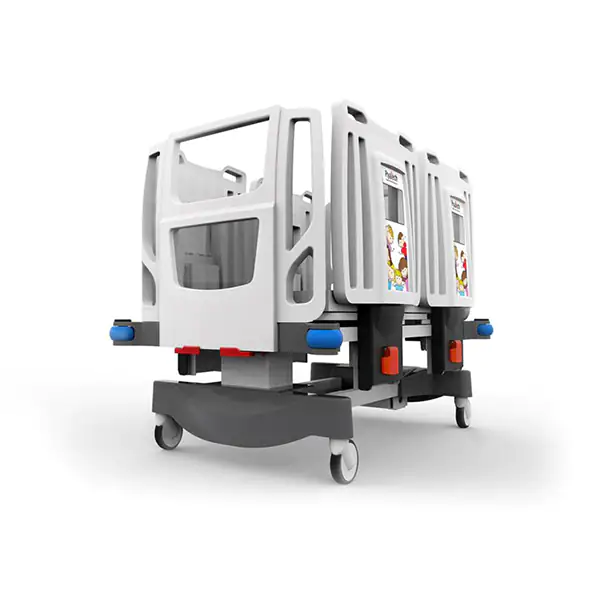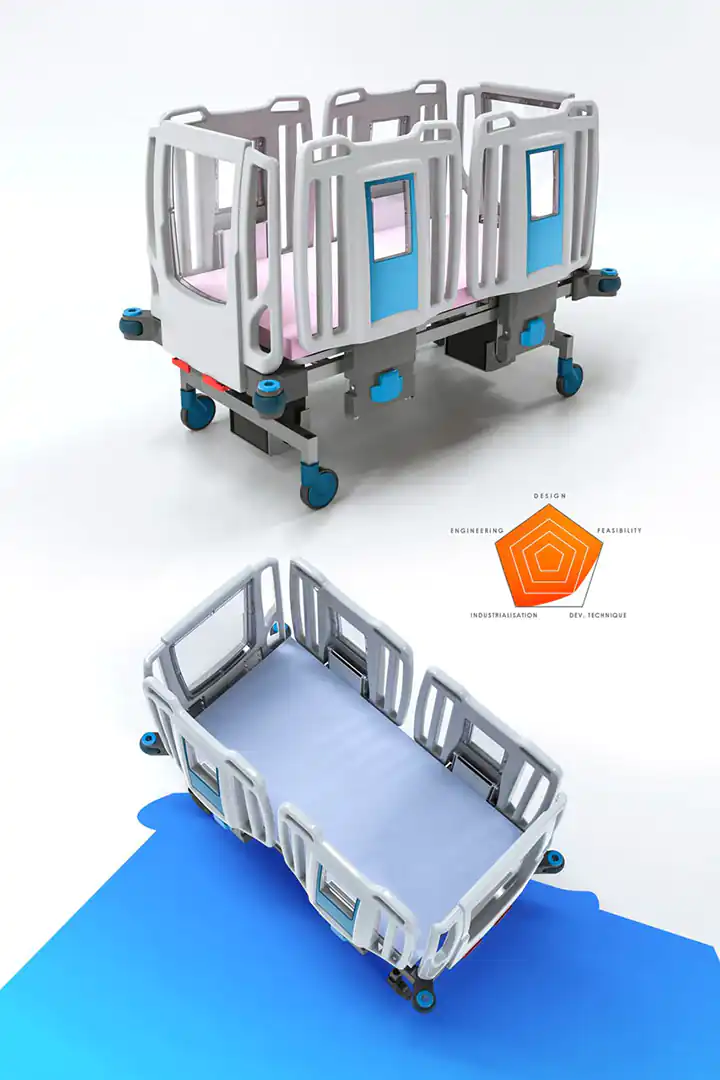 According to wikipedia :
A hospital bed or hospital cot is a bed specially designed for hospitalized patients or others in need of some form of health care. These beds have special features both for the comfort and well-being of the patient and for the convenience of health care workers. Common features include adjustable height for the entire bed, the head, and the feet, adjustable side rails, and electronic buttons to operate both the bed and other nearby electronic devices.
Hospital beds and other similar types of beds, such as nursing care beds, are used in hospitals and other health care facilities and settings, such as nursing homes, assisted living facilities, outpatient clinics, and home health care.
While the term "hospital bed" can refer to the actual bed, the term "bed" is also used to describe the amount of space in a health care facility, as the capacity for the number of patients at the facility is measured in available "beds."
hospital bed :
Our other project is the ICU hospital bed. In this project, due to the manufacturer's manufacturing technology progress, the main chassis was redesigned and engineered, and then the flatheads and bedsides were designed. In designing the bedsides mechanism, we designed it to stand lower than the mattress when opened and have the least available space when closed so that the patient feels completely safe. On the other hand, the flatheads are easily and quickly detachable. We also tried to observe all aspects of pneumatic molding production to produce with a short production time. As you know, there are many rules and regulations to consider when designing a hospital bed.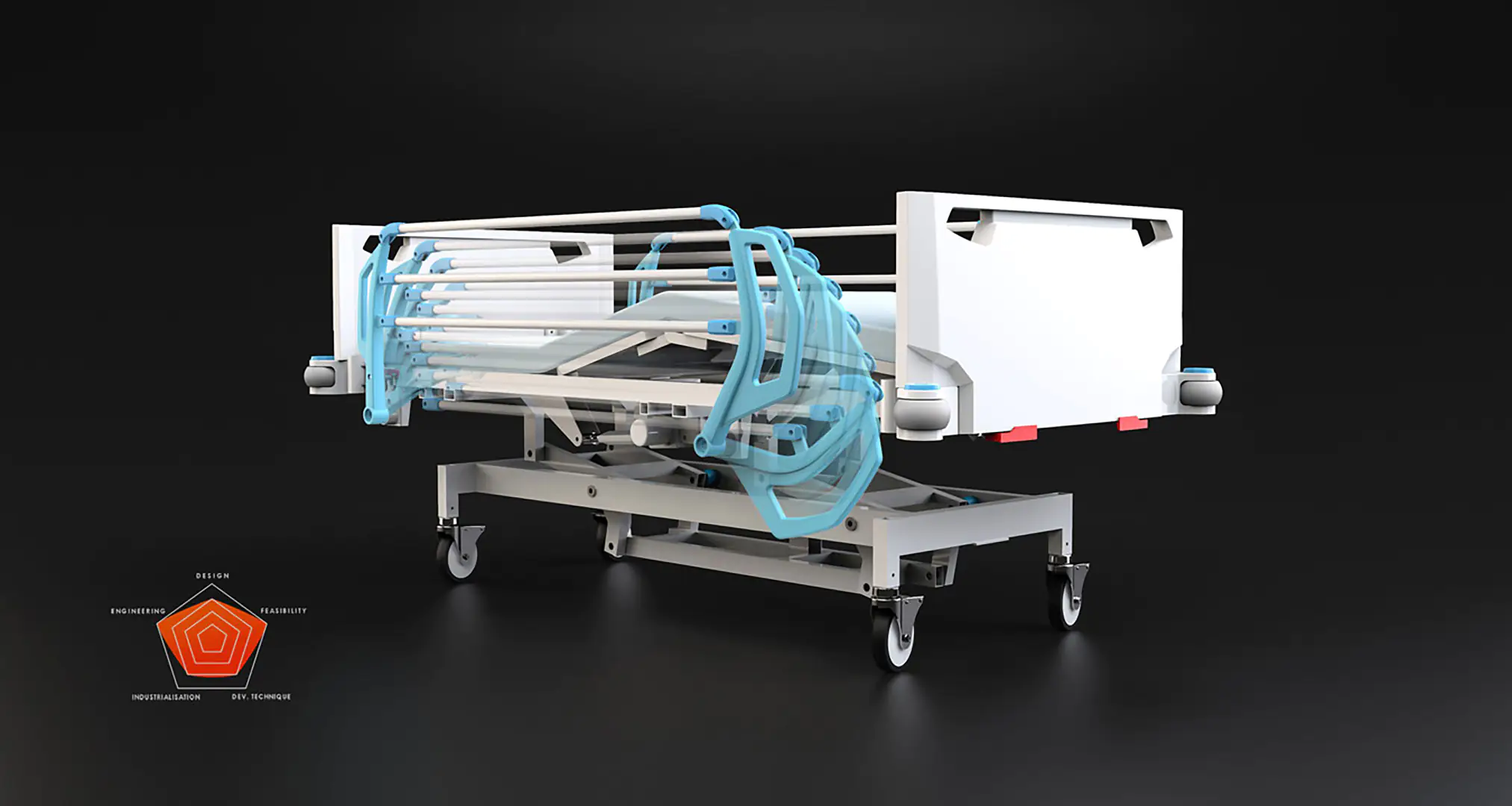 We can cooperate if you have a good idea for a household product and you need help and consultancy in producing and transporting it to the market. We are proud to have designed many products in this group, from the initial idea to delivery to the customer. We have gained a lot of experience in this field, and we are ready to be your friend, companion, and advisor in each of these stages. From our team's point of view, a product designed to be beautiful should have its points. The taste of the target market must be ensured. It is necessary to develop products ergonomically and follow the standards of that field. This design must follow the material standard for different climatic, environmental, and health conditions. The operation must be commensurate with the amount of capital allocated and the initial costs to the end. Be consistent with the manufacturer's planned goals. Comply with the manufacturer's facilities at all design, production, and sales stages. And the most critical issue today is the compatibility of design and product with the environment.